Powering Communities and Opportunities
BigPoint uses blockchain technology to create a platform for exchanges. Without spending money But the exchange of products Or various services Who have joined the community with us which currently has a shop And services in this community of more than 5,000 businesses.
Make this participant do not have to spend money But can exchange various products and services to each other With a score as an intermediary in exchange And when the person who entered the condition can receive Big Point Coin as a reward Which we believe will definitely add value to the Big Point Coin.
Big Point Platform to promote the exchange of products to the world By first aiming to increase sales, reduce inventory, save costs By inter-business (B2B) can exchange products or services with each other At present, there are more than 5,000 businesses that join our community, such as car business, real estate business, restaurant, hotel accommodation, tourism etc. By representing the value of the product or service with points Which the score comes from the agreement between the company and the member Increasing the number of people in the community will get more points. And those who introduce people to the Community will also get points as well.
We have now implemented the platform for at least 2 years and have a growing trend. In the future, we have introduced Blckchain technology to develop by increasing data security. And to want to enter the world or international level using this platform spread around the world And can adjust from the grade to the digital coin (Big Point Token) to be able to access anywhere in the world The exchange of knowledge, technology, products and services around the world.
Questions and Answers to Know BIG Point
What is the purpose of BarterSmart?
We are products exchange platform not use cash. Because the global economy is not good Cash never survives. That can be done is to exchange products By using units called Point and BiG Point.
How is Point and BiG Point different?
Both Point and BiGPoint are not money. Money can not be exchanged for exchanging products with fellow members only. 1 Point equals 1 baht. 1 BiGPoint equals 100 baht. More points. More people. More points. BiGPoint can do more. It doesn't use Blockchain. The production is limited to $ 21 million.
BiGPoint and Bitcoin are equal to 21 million. Where are the differences
The advantages of BIGPoint coins are prohibited to be sold for free, limited amount, free bonus for every coin, but Bitcoin coins do not have a bonus.
Where are the bonuses distributed?
Bonus giveaway will be given 1 time per year. By taking from the profits of the company 50%, for example, this year the profit of 50 million baht, give out free bonus of 25 million baht. If this year, the profit of 100 million baht, give out free bonus 50 million baht. Give out free .. every year forever will be more or less Guaranteed, depending on the profits of the company in that year. Equal to every coin
How can you be sure that coins will be more expensive like Bitcoin?
Will coins have a price? Depending on the needs of new members The company is not guaranteed. Currently, Bitcoin is 10 years old. BiGPoint has just started. When the coins were given out People who don't have coins will start to have needs. If members help grow the business The company will have increased profits. There will be more bonus giveaways. Demand will increase as well.
How does the company set its future goals?
Aim for no more than 10 years. Must have more than 1 million businesses worldwide. Thailand 1 hundred thousand ASEAN businesses. 5 hundred thousand businesses worldwide. 1 million businesses.
Can members buy and sell BiGPoint Token themselves?
Can do no taboos But don't sell below the price.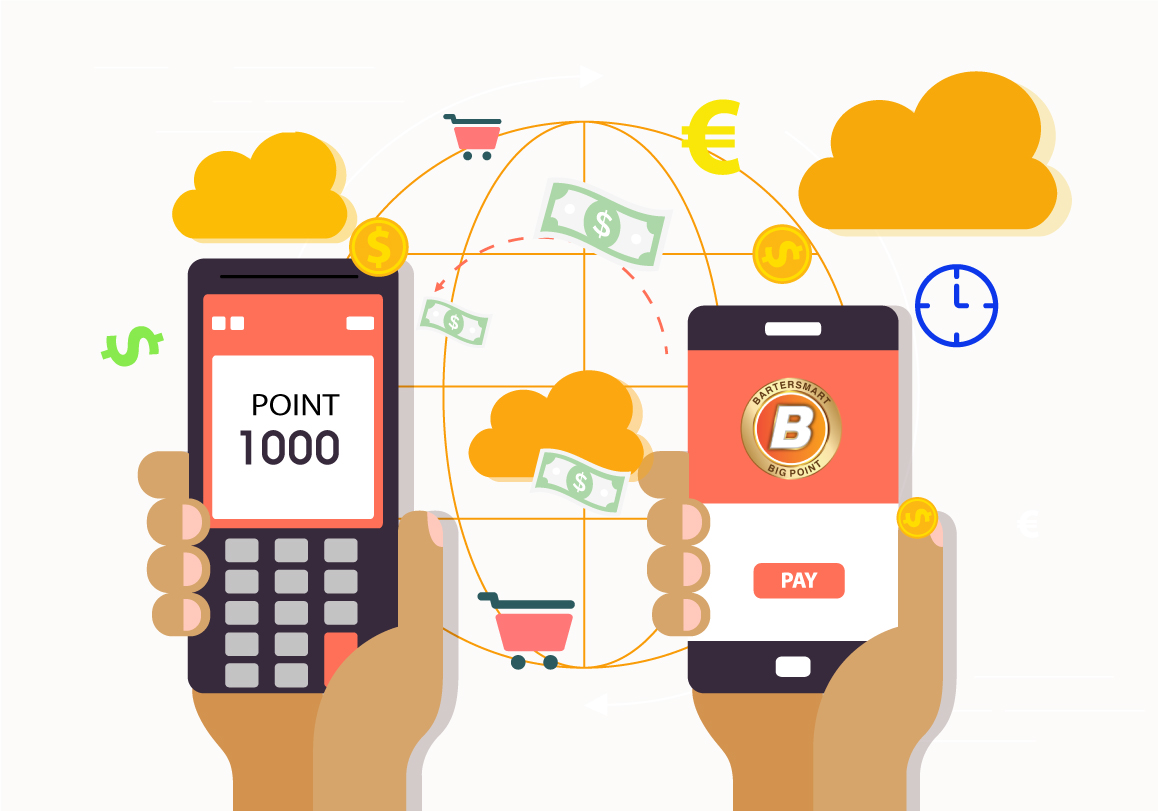 BIG Point was created with Blockchain system for a total of $ 21 million.There is no sale and no fund raising for the purpose of distributing to the members who co-founded and assist in the development of the company only. With members in the amount of $ 10 million BiG Point (BIGP) and the company will hold $ 11 million BiG Point (BIGP) with the initial value of 100 baht per coin can be used to buy products The more than 5,500 business platform BarterSmart.
VISION
Reduce social gap Connect the world trade with "innovation". Cashless society … but not without kindness.
MISSION
Build a smart platform to collect goods and services around the world to exchange "no money" products.
Expand business with kindness, increase sales, release stock, save cash, reduce expenses.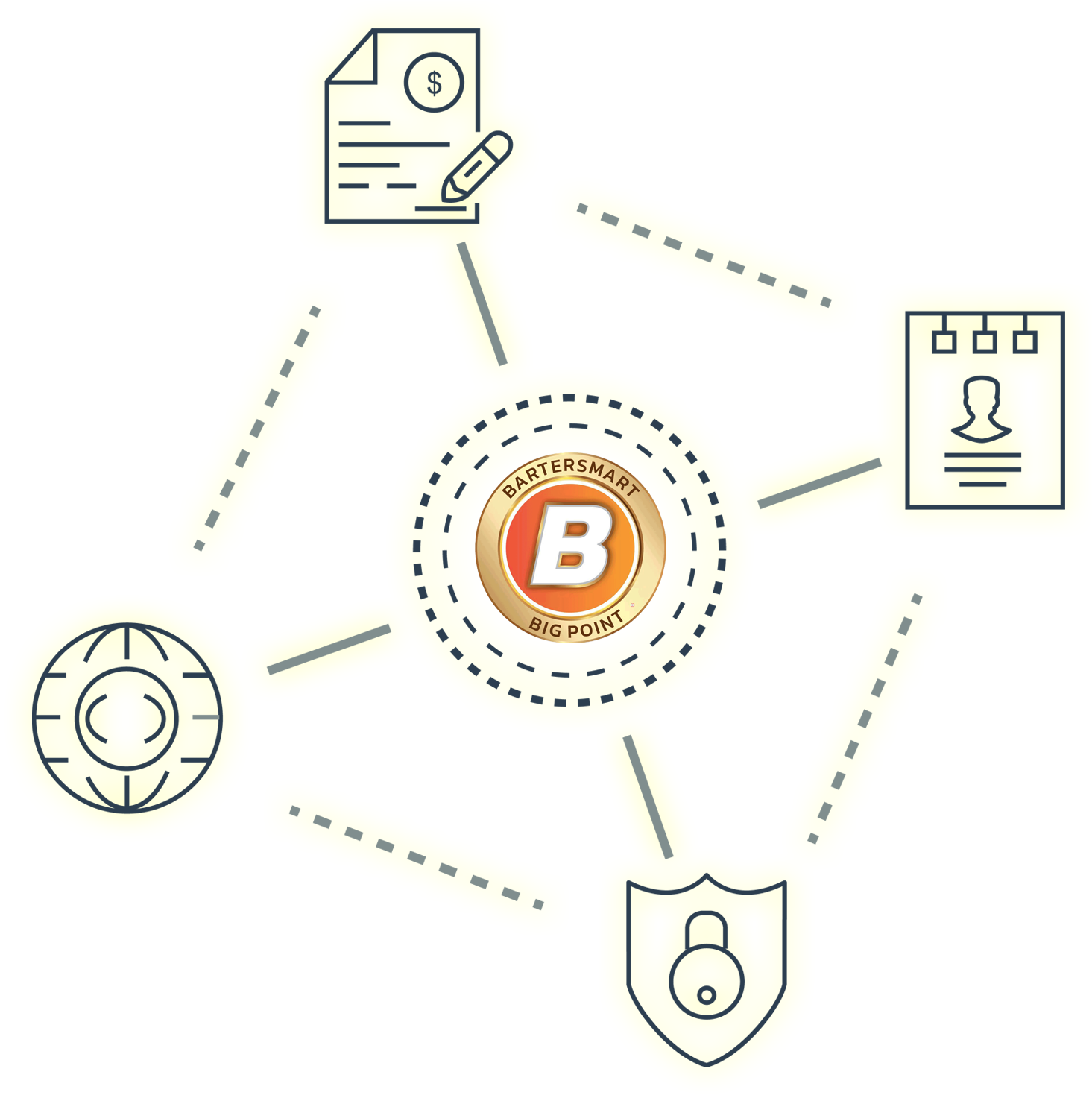 Distribute to public and our
Holding by Barter Smart
Distribute to public and our members 10,000,000 BIGP
Holding by Barter Smart Co.,Ltd. 11,000,000 BIGP
Total Supply  21,000,000 BIGP
The Roadmap
With help from our teams, contributors and investors these are the milestones we are looking forward to achieve.
Generate Platform Concept
Generate Platform Concept at May 2017
Prepare & Promote Platform
Prepare technology and  promote platform to local community at June 2017
Big Point Platform
Big Point distribution to platform members at October 2019
Big Point to Exchange.
Officially entering exchange at November 2019
New Platform for Global Business
New versionof Barter Smart Platform launchofficially and Create new platform for online business which Big Point would be utility inside about 2020.
Any question? Reach out to us and we'll get back to you shortly.
Interested in a seed or private sale allocation? info@bartersmart.co.th
Questions? info@bartersmart.co.th